Positioned in the heart of a stunning 100 hectare domain and only 15 minutes from Brussels, the Club House of the Chateau de l'Hermite is easily accessible from major motorway links. This splendid, well-appointed Club House is perfectly positioned at the centre of the private domain of the 7 Fontaines Golf Club. Situated within the confines of Brabant Wallon, spanning the linguistic borders, the listed site of 7 Fontaines will suit nature enthusiasts in search of calm and prestige.
Members can use all the facilities and equipment. Non-members are subject to other regulations but can use the Club House to organise special events such as banquets, birthdays, seminars, etc.
The Chateau's structural design is very elaborate and is a superb example of eclectic art in the style of Flemish neo-Renaissance. A magnificent closed veranda in wood and glass designed by the Architect, Win Derickx, was added to the existing building and provides an air of modernity without affecting the historic nature of the Chateau. A magnificent terrace overlooking the greens extends out from the glass veranda.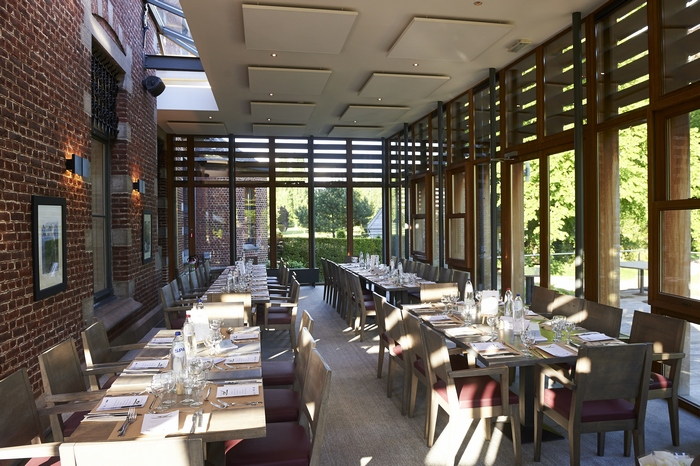 The restaurant is housed in the veranda and can seat up to 250 patrons.
A recently renovated conference room with its own private terrace can hold up to 40 participants.
A vast private car park with 250 parking spaces is available for patrons.
Reputed for its hospitable atmosphere and high quality personalised service our establishment is a key venue for business or private events.
Location :
The Club House of the Chateau de l'Hermite is easily accessible by car from :
Halle : 15 minutes
Nivelles : 18 minutes
Charleroi: 30 minutes
Anvers : 50 minutes
Namur : 50 minutes
Bruxelles : 15 minutes
Contact

Chaussée d'Alsemberg, 1021 B-1420 Braine l'Alleud - Belgium
Telephone : (+32) 02/ 353.05.46
E-mail : This email address is being protected from spambots. You need JavaScript enabled to view it.